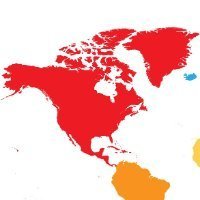 About This Club
Discussion, events, etc. for events and issues specific to the North America continental area
What's new in this club

Join us for open games of Warhammer 40k! Eventbrite information Game Kastle Austin Note that this event is scheduled to recur every Thursday on the B&C North America Club Calendar. Please check the Game Kastle Austin website to confirm if the event will occur on any particular Thursday.

Come by for casual Kill Team games every Saturday! Eventbrite information Game Kastle Austin Note that this event is scheduled to automatically recur every Saturday on the B&C North America Club Calendar. Please check the Game Kastle Austin website to confirm if the event is occurring on any particular Saturday.

I'm fairly dialed into the places in the greater Seattle area to set models up and play. But before I give a run-down on the locations, let me restate I am very interested in finding a regular group to hang with on weekends to talk/do Warhammer. Not necessarily 40K, and not necessarily even Warhammer -- but model making in general. I collect LotR boxes and plan on building some, eventually. So, let's find our Emerald City cohorts and settle on a Sunday or Saturday a.m. joint to mix. For rlz.. Anyway .... Let me run through what I know... The two locations that are quite a highlight to visit are Card Kingdom (aka Mox Boarding House). There's one on Leary Way and Dock Street. They have a pretty good table setup and all the miscellaneous gear you would need to conduct battles. Plus their stock is fair to middlin. And most of the time there is someone there on staff who can "walk the walk" vs "talk the talk". The other "MBH" location is in Bellevue, WA, along Bel-Red Road, but parking is a nightmare. They have someone on staff between 11 and 3pm every Sunday to help with painting/modeling (bring your stuff, sit down and wet some brushes.. it's all good). As far as Games Workshop (franchised locations).. There are two: Kent, WA and Lynnwood, WA Kent: 417 Ramsay Way, Kent, WA 98032 Lynnwood: 20101 44th Ave W Suite D, Lynnwood, WA 98036 I've been to the Kent location many times. Sole owner/operator, on a shoestring, but his paint selection is fantastic, and carries deep inventory on WH 40K, not so much on HH, and not a single box of Necromunda. I don't even think I remember seeing any BloodBowl. Tables to play and a modest Black Library in the corner. Plenty of back-issues of White Dwarf. He also knows the game really well so if you have questions on game mechanics and even modeling, he's got some good answers. There's also a smattering of several game shops that also cater to the comic book audience. Capitol Hill (Seattle) has a number of them. Google Maps throws out a lot of pins. I won't bother restating them. I would say though Capitol Hill is actually quite interesting -- a lot of shops around the area and if you like a good independent bookstore, Elliot Bay Bookstore is right around the corner. Decent sci-fi collection and a tasty cafe in the joint. A sit-down cafe is next door (Odd Fellows Cafe) and I highly recommend. PLUS a Blick Art Supply is one block away too. So.. paint, brushes, stuff, food, books. The MBH (On Leary) is in the Ballard neighborhood and I don't remember if there are any art/craft supply stores along Market Streeet. But Ballard is also a quirky neighborhood in it's own right. We locals joke: "Visualize Ballard" as a play on "Visualize World Peace". Plus, we also remark that getting to Ballard is one of those difficult tasks. (Recommend taking I-5, then 50th west and drop down into Market Street, if it was me...) Or if you're already on the west side, take Dexter/Westlake into Fremont then go west onto Leary. But for the sake of argument, the MBH locations have vibrant clientele action. Games and Gizmo's is long gone. Uncle's Games is long gone (thankfully, that place was terrible, IMHO). Most all (I think all) of the shops I remember as a kid north of Seattle (Kirkland, Totem Lake, etc..) are way long gone. But I've been here a while so I expect that just happens. 5-10 years flicks by for me.

Anyone here ancient enough to remember USS Enterprise in Totem Lake?

Heya Virginia folks-- a new hobby store is opening in Alexandria (soft open was today with a grand opening expected in July). "Your Hobby Place" on Facebook- they bought the business license and a lot of the assets from Eagle and Empire which shuttered its doors in q4 2021. I wasn't able to get a super detailed look around as they were still setting things up- but the shop floor is pretty big, Id imagine theyll be able to get several game tables in there come opening day.

Figured I'd necro this. Had to cut my last gaming partner for low key threatening my pets. Need someone new.

Not heresy, just normal 40k and my own game I'm cooking up

Not sure about Charlotte, check the FLGS' Here in the Triangle about 2 hours away in Durham is Atomic Empire and in Raleigh Game Theory and Gamers Armory All three do friendlies and occasional tournaments, search on FB for Triangle 40k group Welcome to NC

Hey guys. I know that a handful of folks are playing 40k at Hard Knox Gaming in Elizabethtown, and Heroes Comics in downtown Louisville, but apparently I am just missing them entirely for most part, and was unable to make a small tourney at HKG last weekend. I did a meet up search and found nothing ongoing for the area (unusual I thought, given the size of the area). I started a meetup as well (if you dont see what you want, make it yourself right), but curious if anyone can assist here. Im super new to the game (started via TTS at the very end of 8th due to COVID), and while Ive got a couple handfuls of virtual matches under my belt, Ive finally got a mostly painted army ready for table top play and looking to learn more by doing, cracking off some games if anyone can point me in a time/direction. Much appreciated.

The Heresy is still alive in St. Louis. There's a group that runs campaigns semi regularly. If you're interested I can share some of the discord and Facebook group links when I'm back on my computer.

It's been going 16 years and only took a break last year for nurgle so see you in 2022! :tu:

Oh, man. I'm going to be moving to St. Louis soon, but not quite soon enough for that. Hope there's a Siegeworld 2022!

There was a bit of scene there, not sure what its like The GW in Chesterfield was a common grounds for them, there was a few that hung out at Game Nite too If you're in the area end of August Siegeworld Apoc and the 40k Open will be on, check my sig for more info :tu:

Hey frater, Moving to the St Lou area and looking for Horus heresy peeps.

Anyone in the Central Valley? Looking to maybe start some semi regular 40k with some like minded individuals. Not super into comp play, more narrative and playing for the game. Hit me up!

I'm from the capital city of ND, Little Big Wars is an awesome store I frequented when I use to be into ITC. They do everything there, but obviously due to the name specialize in wargaming. I can't help you with groups but Chaos Games will be your haven when you move to Minot!

Sorry for the off topic but... I'm watching the third season of Fargo (the series; it's great) and couldn't help but recall this topic. Hope nothing that weird happens to you all there in ND or MN. That said, it looks like there are beautiful, evocative places up there. It's curious too that although there's a Warhammer Store up there, it seems it's the only place along one independent retailer where you can go find gw products. Although I have to drive 40 miles to find a Warhammer Store, there are a good many independent retailers inside that range. I guess the same happens with gaming groups. The wonders of geography. Off topic over.

Im actually moving to Minot ND in July and Im looking for a group to join

Those nearby Everett, Mugu games is huge, many tables, lots of business, cool employees

Thanks for the reply. I know there's a games workshop there, bit I would prefer a brick and mortar store thatsl sells other products as well. That store link you sent, seems like a great start. Thank you.

Isn't there a Warhammer store in fargo?...Prairie Stone Center,1650 45th St S,Suite121. And this shop has 40k - Little Big Wars Game shop - 2501 7th Ave North Fargo, ND 58102 Mithril Little Big Wars Game Shop

What's the best game store to go to? I'm talking warhmer, rpgs, boardgames, etc. Thanks!

Any Heresy players in North Seattle?

So we moved to Reston back in April of last year. I've been to Huzzah a few times for purchases but playing there has a few roadblocks. Anyone got enough terrain and a day or two in February they'd like to play?

Where in NY are you located?